Treat with Sildenafil Citrate Tablets


Sildenafil is one of the most commonly used medications for the treatment of erectile dysfunction. It is the first recognized oral drug for ED treatment and has been used by millions of men across the globe. It improves one's erection ability so that they can lead a satisfactory sexual life.
What is Sildenafil Citrate (Blue Pill)?
Sildenafil is one of the most widely known prescription ED medications.
Available in a little blue pill, Sildenafil was the first oral ED medication discovered.
It is pharmacologically denoted as the phosphodiesterase-5 (PDE-5) inhibitor.
Sildenafil Citrate, sold under the brand name Viagra, is also available as Generic Viagra.
How Sildenafil was discovered for ED?
The groundbreaking discovery that Sildenafil could help men achieve and sustain an erection was an accidental event.
This drug was originally developed for the treatment of pulmonary hypertension and angina pectoris. However, during the clinical trials, scientists discovered that Sildenafil was more effective at promoting erection than treating pulmonary hypertension. Since then, this blue pill is predominantly being used for ED.
How does Sildenafil work to treat ED?
As the pharmacological name suggests, Sildenafil inhibits the secretion of an enzyme called phosphodiesterase-5 in order to stop the degradation of cyclic Guanosine Monophosphate (cGMP). When this happens, the body releases nitric oxide, a natural chemical that increases blood flow throughout the body, including the penile organ.
Simply put, Sildenafil increases blood flow to the penile organ so you can attain and keep an erection strong enough for sexual activity. The drug usually starts to act within 30 to 60 minutes. Remember that individual results may vary. It has been clinically proven to help men with all degrees of ED.
The drug usually starts to act within
30 to 60 minutes
Remember that individual results may vary. It has been clinically proven to help men with all degrees of ED.
Taking Sildenafil in a right way
Sildenafil usually starts to act within 30 to 60 minutes; therefore, doctors advise user to take it 30 to 60 minutes before indulging in sexual activity.
This magic blue pill should be taken only when needed and not more than once in 24 hours.
The efficacy of the drug may be affected if taken with a high-fat meal or alcohol.
You should take the prescribed dose with a full glass of water.
Remember, Sildenafil adversely interacts with grapefruits, so avoid them.
Sildenafil can help you have a strong erection in the presence of sexual stimulation. An erection will not happen just by popping a pill.
More importantly, you should seek medical attention before using any Sildenafil based blue pill.
What to do if Sildenafil does not work?
If you have tried taking the medication and you are still not reaping the benefits, see your physician to see whether adjusting the dose might help.
Some men may not get the effects; however, it has been shown to help 4 out of 5 men at the dosages of 50 mg or 100 mg.
Stay away from taking the medicine more than once a day if you do not get the results.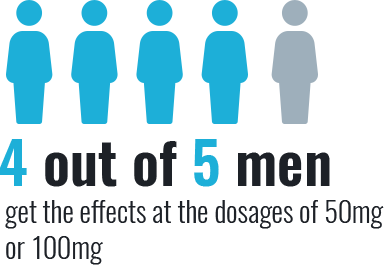 Can I take Sildenafil if I am on other treatments?
It is imperative to inform your healthcare provider about the medications you take, including OTC and prescription medications, vitamins and even herbal supplements. The blue pill may affect the working mechanisms of other drugs, leading to adverse reactions. Here are a few drugs that may adversely interact with the small blue pill:
Nitrates, including nitroglycerine, isosorbide dinitrate and isosorbide mononitrate
Certain antibiotics, antifungals and antivirals
Certain antihistamines
Antihypertensive drugs, alpha-blockers
Prostate medications
Are there any side effects of Sildenafil?
Like every synthetic drug, Sildenafil Citrate, too, carry a few side effects. It often depends on the individual's response to the little blue pill. Common side effects include:
Facial flushing
Headache
Dizziness
Abnormal vision
Runny or stuffy nose
Sleep problems
Myalgia or back pain
Upset stomach.
Stop taking the medicine and get immediate medical help if you experience chest pain or pressure, vision loss, shortness of breath or painful erection.
Please note that this is not a complete list of adverse effects and others may occur too. Check with your medical provider about side effects.
What precautions I need to follow?
You must not take Sildenafil Citrate if you are using nitrate drug or some recreational drugs such as "poppers". If taken, it can lead to severe hypotension, needing aggressive medical intervention.
Seek immediate medical attention if you experience any adverse effects, especially prolonged and painful erection that sustains for more than four hours. Prolonged erection, also called priapism, can damage the penile organ.
You should not use it if you have known allergic reaction to Sildenafil.
Make sure you address your current medical condition(s) to your doctor before using this medication, such as hypertension, history of heart attack, liver or kidney disease, blood dyscrasias, penile deformity or gastric issues.
Keep the medicine away from children and women; it is not meant for them.
Stay away from alcohol and grapefruits while using Sildenafil
What is the right dose for me?
Ideal dose of Sildenafil Citrate for ED include:
 Initial dose: 50 mg once a day, as needed, one hour before sexual activity
Maintenance: 25 to 100 mg once a day, as needed, one hour before sexual activity
However, it is recommended seeking medical advice before choosing the right dosage.

Is there any Generic Sildenafil?
Yes. There are numerous Sildenafil generics available on the market. Some of them include Caverta, Kamagra, Penegra, Zenegra, Suhagra and Silagra. These medications contain Sildenafil Citrate that has been already approved by the FDA, and they are available at unbeatable prices. They are as effective as the brand Viagra and offer same efficacy without compromising the quality.
What Sildenafil does not do?
Does not cure ED.
Does not increase sexual desire.
Does not protect one from sexually transmitted disease (STDs), including HIV.
Does not serve as a male birth control.
Will Sildenafil be approved for women?
It has been found that more than 50 million women have some type of sexual problem. Studies looking at Sildenafil Citrate in women have theorized that it could enhance genital blood flow and improve arousal. However, studies have found limited effects of Sildenafil for women. Sildenafil based medicine, Lovegra has been found to be effective in women with sexual arousal disorder.
Sildenafil – Frequently asked questions (FAQ)